If you want to try the nigerian meat pie with irish potato, here we're going to show you the ultimate tricks to achieve that.
How to Prepare Irish Meat Pie Nigerian Style
Ingredients:
Flour
Butter
Baking powder
Nutmeg
Salt
Egg
For the filling:
Minced meat
Irish potato
Carot (optional)
Maggi and salt to taste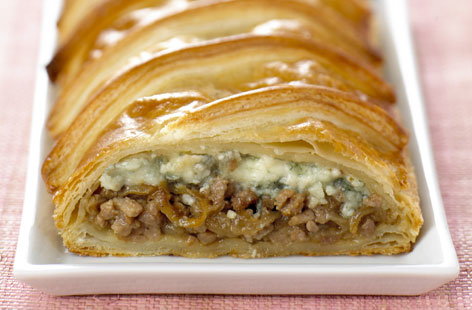 Procedure:
1. Turn your oven to 150 degree to heat
2. Greese your baking pan with butter and pour flour on top of it and pour the remaining out.
3.Peel your potato, carot and slice in cubes.
4. Put the minced meat in a pot with a bit of water and put on fire, then add your maggi and salt to taste.
5. Cook 'til the potato and carot are soft. Then mix a little bit of flour wit water and pour in it so that the feeling will be thick and cluster together. Set aside to cool while you prepare your dough.
6. Mix your flour, baking powder, nutmeg and a pinch of salt, after mixing it well add your butter and mix with the fingers until it's sandy.
7. Then add a bit of water and mix until your dough is smooth.
8. Then use your rolling pin and roll your dough until it's flat enough.
9. Cut and put your filling and use cooking brush to apply egg on the edge of the dough so that the dough will not open when placed on the oven.
10. Use a fork to press the edge after you rub the egg on top of the dough so as to give it a golden brown colour when baking.
11. Bake for 30-45 mins with a 150 degree heat. Don't leave for more than 50 minutes in order to have a soft irish meat pie.
Use the search box on this site to search other different styles of making meat pie of your liking. Apart from nigerian meat pie, we also have new foreign suggestions for new. It's good to try new things. And if you have any question or suggestion, use the contact on the menu and we shall get back to you shortly. Happy cooking. Happy eating.